Samsung HT-E6730W Blu-ray Home Theater System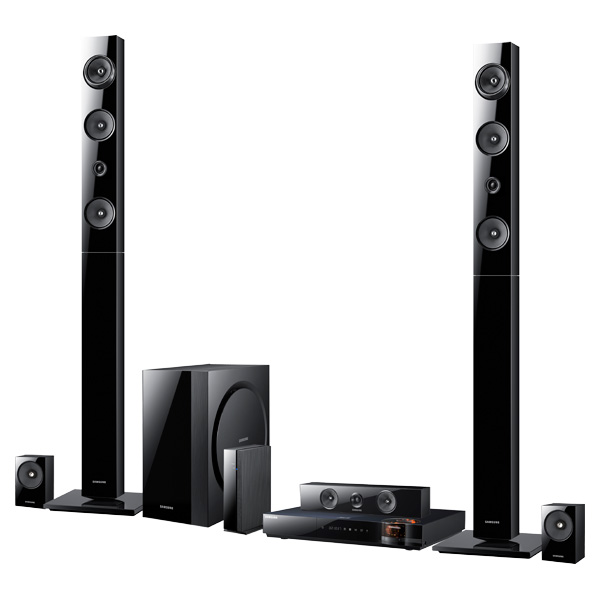 "Enjoy a more lifelike experience with Vacuum Tube and Digital Sound. Hear your favorite music for the first time with the innovation of analog and digital sound combined. It creates a truer, more immersive sound that digital alone cannot replicate. Samsung has brought wonder to your eyes, now it's time for your ears." – Samsung's official website
The Samsung HT-E6730W Blue-ray home theater in a box system that combines 2D and 3D Blu-ray DVD player with a vacuum tube-equipped 7.1 channel audio system that has internet and network streaming capabilities. With MSRP of $849.99 this home theater package is reasonably priced for what it comes with. Here are the specs via the official Samsung website:
General
7.1 Channels
Total Power: 1330W
Features
Captivating 2D & 3D Blu-ray Playback
Anynet+ (HDMI-CEC)
BD Wise
Crystal Amp Plus
Samsung Smart Home Theater
Smart Hub Network Service
Vertical Surround Sound
Wireless Rear Speakers
Built-in WiFi
Smart Volume
AllShare™ Play
Audio Processing
Dolby® Digital
Dolby® Digital Plus
Dolby® Pro Logic II
Dolby® True HD
DTS
DTS 96/24
DTS-HD
3D Sound Plus
Speakers
EC2-1 Center Speaker
EW4 Dual-unit Subwoofer with passive radiator
ES3-1 Surround
2 Tallboy Swivel Speakers
Connectivity
1 Audio Input
2 HDMI Inputs
HDMI Out
Includes iPod Docking Cradle
Made for iPod / iPhone
1 Optical Input
USB HOST 2.0
Wireless Rear Module included
Built-in WiFi
Supported Media
Supports Blu-Ray
Supports CD DA / CD-R / CD-RW
Supports DVD / DVD±R / DVD±RW
Dimensions & Weight
Product Dimensions: 16.93″ (W) x 2.48″ (H) x 12.4″ (D)
Product Weight: 8.49 lbs.
Shipping Dimensions: 36.26″ (W) x 15.63″ (H) x 17.56″ (D)
Shipping Weight: 60.63 lb.
For those of you that may have already purchased this, we would love to know how the experience is in your home theater. The features are great and can cover both 2D and 3D which is a great selling feature.
We always appreciate your comments and feedback so contact through Facebook, Twitter, email or by phone.

Canadian Head Office
Unit 406, 17665 66A Ave.
Surrey, BC V3S 2A7
Tel. 604-575-8310
Fax. 604-575-8329
U.S. Head Office
1927 Boblett Street
Blaine, WA 98230
Tel. 1-800-490-1595
email: [email protected]